Présentation de Sheila Nordström
Après avoir lu la présentation de Sheila Nordström, coordonnatrice internationale de projets éducatifs .... espérons que nos élèves y puisent une motivation à se lancer dans le grand bain de notre tour de Babel européenne!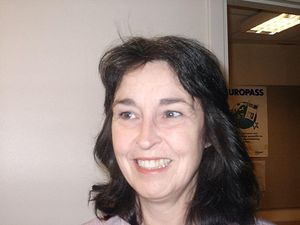 I was born and brought up in the United Kingdom where I also qualified to become a teacher. Earlier in my career I have taught mathematics, English as a foreign language, computer studies, tourism and all hotel subjects.
I now work 50% as the international coordinator at Virginska skolan and Risbergska skolan, administrating Leonardo da Vinci projects, Comenius projects and Study Visits to other countries.
I also work 50% % as the international coordinator for the Department of Children and Education helping any school in Örebro to get started with projects or apply to participate in different courses.
I have lived and worked in four different European countries, United Kingdom, Finland, Switzerland and Sweden, for at least one year in each country. In all countries I have had a lot of contact with their citizens and lived, worked and socialised with them.
I have learnt different foreign languages to different levels and have both frustrating and rewarding experiences of this. I have travelled extensively in Europe Asia, America and Africa thus learning about cultures quite different to the European ones.